Little League Licensed Mobile Apps
Little League International has partnered with FunMobility to develop and distribute many cool mobile apps for Little League players, parents, coaches and scorekeepers…for use during the regular season or throughout the tournament!
These approved, licensed apps can enhance the Little League experience during Tournament season. Available for Android, iPhone, iPad, iTouch, and online through your web browser, you'll never miss a play using these new apps!
With Little League Apps, you can…
Follow the Rules with Little League® Rulebooks
Follow your Tournament Team with the Little League® Rulebooks app, complete with diagrams, search, and bookmarking, for all of the tournament divisions—Baseball, Softball, and Challenger—all in one convenient place.
Alternatively, get the individual Rulebook apps for the league of your choice. Baseball: [ iOS | Android ] Softball: [ iOS | Android ] Challenger: [ iOS | Android ]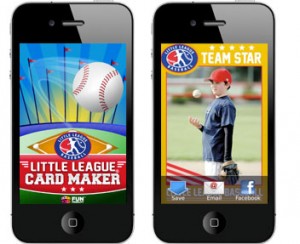 Trade Some Fun with Little League® Card Marker
The 2013 Little League® Card Maker provides a fun way to create custom Little League trading cards while watching tournament games. Email them to friends and loved ones, or post it on Facebook! Choose from over 50 designs.