FunMobility Launches Mobile App Promoting Brand Loyalty to Carol's Daughter
June 11th, 2013 – Pleasanton, CA – Mobile Marketing is on the rise, and businesses are turning to mobile apps to drive mobile engagement and increase customer brand loyalty. FunMobility, a company specializing in mobile coupon and brand loyalty campaigns that seamlessly integrate within existing marketing promotions, has developed and launched an app to augment customer engagement and foster brand loyalty for beauty and natural hair care products retailer, Carol's Daughter.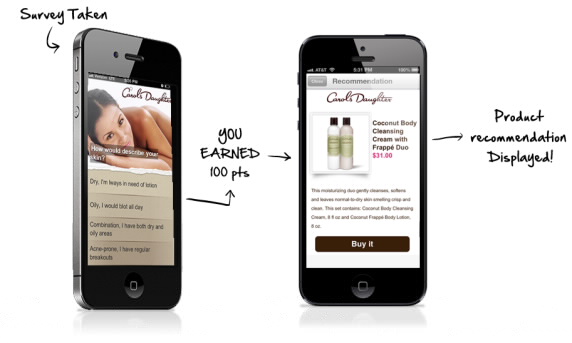 The mobile app developed for Carol's Daughter, a 20 year-old retail-based chain based in New York, builds brand loyalty by engaging customers through their mobile devices and drives them to store locations through incentives and special promotions.

This new app encourages customers to "check in" to stores carrying Carol's Daughter products and provides step-by-step instructional videos on how to style and care for hair as well as advice from well-known specialists. Included is a store locator that helps customers find the nearest Carol's Daughter retail locations and retailer partners that carry their product line.
The mobile app provides quizzes rewarding customers for answering questions with loyalty points that can be redeemed for product discounts and provides customized product selections based upon individual responses.
Richard Dantas, CEO of Carol's Daughter, is pleased to bring the brand to his customer's phones. "The fashion industry has been creating mobile apps for years now – almost every leading designer or magazine has one – but the beauty industry has been slow to get on the bandwagon. Carol's Daughter is proud to be leading our industry by filling this overlooked, highly in demand space. Our app will let you shop, get advice, and interact with the brand in a cutting age, personal way."

Lauren Branche, director of marketing at Carol's Daughter, extends her appreciation to the mobile app expressing, "Mobile is obviously huge. More than half of our customers are speaking to us on social via their mobile devices…We launched the app to thank our fans for their loyalty with a points system, videos, quizzes, expert advice, an easy store locator – all the things they ask for – at their fingertips."
About FunMobility
FunMobility enables brands, agencies and advertising networks to quickly launch engaging mobile coupons, promotions and loyalty campaigns through a combination of specialized experience, technology and creative execution. FunMobility's AppWidget technology integrates seamlessly into existing marketing promotions and platforms, and providing a turnkey "last mile" mobile engagement layer for over 200 Android, Tablet and iOS devices. FunMobility's Data Engine tracks every aspect of the consumer mobile engagement experience, enabling clients to continually measure and improve.

FunMobility chairs the Mobile Marketing Association's Mobile Coupon Ad Unit Standards committee and is dedicated to incorporating industry best practices and standards into FunMobility Mobile Coupons and Brand Loyalty services. More information is available at
Media Contact:
Michael Brucker, Senior Director of Marketing
FunMobility Inc.
mbrucker@funmobility.com